I think I have spent more time in my kitchen these past few weeks than ever before. I have painted cabinets (well the lower section, at least...I still have the upper ones to tackle), ripped out laminate and installed granite, and now, picked the backsplash. Selecting the backsplash was trickier than expected. I struggled in choosing between the inspiration room's subway mosaic and a beautiful natural stone found at Lowes.
Image from FastFloors
The designer of the inspiration room had installed Crossville Tile's 1x2 Savoy series glossy white. The closest Crossville distributor was actually 3 hours away. I made a quick call to the rep and he generously sent a sample which arrived within 3 days. I was beyond thrilled when the UPS man delivered my sample. Unfortunately, when we held it on the wall, we didn't loooovvvve it (and after waiting 13 years to "do the kitchen", I thought we should). The tile was beautiful and it looked fabulous in the pics, but on our long run of cabinets (12 1/2 feet) and the 1x2 pattern looked waaaaaayyyyy too busy.
Image from Lowes
I headed to Home Depot and Lowes to find an alternative. Lowes had a soft white natural stone with gray striations which was beautiful! I brought home two boxes and we all agreed - it was the one. It wasn't the bright white of the room, but it was gorgeous. After agonizing over the choice for days ( I polled friends, family, and even my students), we chose the natural stone. Unfortunately, it was gorgeous only in small batches! When we laid it out prior to installation, we realized it didn't work. Some stones featured gray, but most were white with brown spots! I hate brown spots!!! Aaaaggghhh! I had bought 28 boxes from 2 different locations (2 different lots/runs + natural stone = major variations!!!) I couldn't put the brown spotted tiles back in their boxes fast enough.
Mike and I loaded up the stone and headed back to the store.
Now, what? I had liked everything about the inspiration room.
I wanted to recreate the feel without using the tiny mosaic.
I looked through other kitchen pics I had collected on my iPad and phone over the past few months. They all had a high contrast between the backsplash and countertops. They tended to be bright and white. Many had a subway tile backsplash. I like traditional subway tile, but I liked the smaller tiles from the inspiration house too. I went back to the tile section of my big box stores and found this: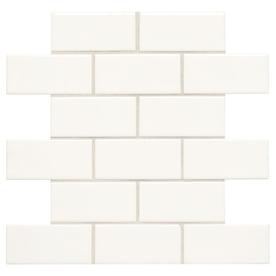 a 2x4 glossy white mosaic, my new backsplash!
So much effort...and we still have to install it :)